Practically any modern PC can handle the functions of almost every piece of hardware in a typical home theatre: DVR, Blu-ray player, even stereo amplifier. What's more, the PC can do things that no cable box can, streaming Netflix movies, playing your entire music and photo libraries, burning recorded TV shows to DVD, and much more.

It all starts with a having a system that runs any version of Windows 7 other than Starter. All such versions of the operating system include Microsoft's powerful Windows Media Center software, a couch-friendly home theatre interface that beautifully complements your HDTV. Once you've made established the necessary connection, you have the makings of a killer entertainment centre. Now you just need a few accoutrements.
Grab a Blu-ray drive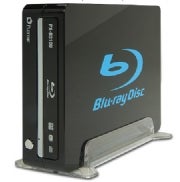 Windows 7 lacks native support for Blu-ray movies, but that doesn't prevent you from installing a Blu-ray drive. A couple of caveats, though: Your video card needs to have the horsepower to run smoothly at 1920 by 1080 resolution, and it needs to have an HDMI port or HDCP-compliant DVI port. Otherwise, Blu-ray movies won't play.
Suitable software is another requirement. Both Corel WinDVD Pro 2010 and CyberLink PowerDVD 9 Ultra offer Windows Media Center integration, meaning that they add a Blu-ray option to the standard menu system. With such integration in place, you won't have to get out your mouse or keyboard and shut down Media Center just to play a Blu-ray movie.
As for the drives themselves, internal models are available from the likes of LG, Lite-On, Plextor, and Sony for less than £80. Any of these drives should be able to replace the DVD drive already installed in your PC. If you'd rather go external, drives from Plextor (like the PX-B310U shown above) and Velocity Micro are good bets. Any of these models plugs easily into a USB port. Plan on spending closer to £150 for an external model.
Don't skimp on the speakers
No man cave home theatre is complete without a world-class (or at least den-class) audio system. Smaller rooms can get away with traditional speakers, but a larger room needs a amplifier/speaker combination. Either way, make sure that your PC has an SPDIF output so you can enjoy true digital sound. If it can't handle SPDIF, consider upgrading your sound card, an operation that can be as simple as plugging in a Turtle Beach Audio Advantage Amiga USB Sound Card ($40), which adds a digital output to any PC.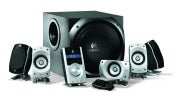 If you're outfitting a smallish room, the plug-and-play convenience of PC speakers such as the Logitech Z-5500 is pretty compelling. This 5.1-channel setup (translation: five satellite speakers and a subwoofer) pumps out an amazing 505 watts of surround sound power, more than enough to blow your hair back (and forward again) during screenings of Inglourious Basterds.
If you want more power and versatility, you'll have to spring for a home theatre receiver, and of course, speakers to go with it. We don't have space here to look at the endless options and permutations available, but you should be able to find the gear and the advice you need at your local home theatre store. (Note: Any modern receiver you buy will have SPDIF inputs, the one essential criterion in making the media centre connection.)
Extend Windows Media Center with your Xbox 360

If you'd rather not make a big, bulky desktop PC a permanent part of your living room décor, consider working instead with the Xbox 360 that's already there. Right out of the box, Microsoft's game console can double as a Media Center Extender, reproducing the entire Media Center experience, TV, music, photos and all.
The interface looks and operates exactly as if you were sitting in front of your PC. The only overhead is the one time setup procedure linking Xbox and PC.
Unfortunately, you won't be able to watch Blu-ray (or even DVD) movies via your Xbox (thanks to DRM.) Also, you can't use PC speakers with an Xbox, so if you want killer audio, your only practical option is to add a receiver to the mix. And finally, your Xbox will need a wired connection to your home network router. Wireless just doesn't cut it, especially for streaming high definition video.
Don't forget the remote control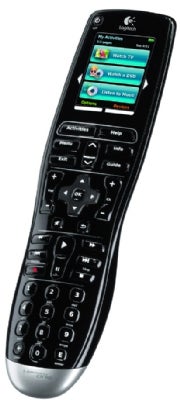 Ready to hit the couch? You still need one crucial accessory: a remote. We've long been partial to the Logitech Harmony One, which incorporates a colour touchscreen for performing multitask activities (such as turning on the TV while switching the receiver to the proper mode). It works especially well with Windows Media Center, since many of its buttons map perfectly to the interface.
If your PC lacks an IR receiver, however, you'll need to add one. Our advice: Head to eBay and search for "Windows Media Center remote." For as little as £10, you should be able to find a bundle that includes a remote and a receiver. You can use the former if you want or stick it in a drawer as a backup.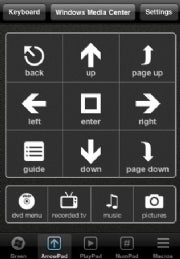 Finally, if you own an iPhone or an iPod Touch, you can go the app route. For just $5, HippoRemote Pro provides full control over Windows Media Center. You don't even need an IR receive, just a small Windows utility that permits your Apple device and your PC to communicate over your Wi-Fi network.
Have any Media Center PC tips of your own? Share them in the comments!