Steam, for the uninitiated, is essentially an iTunes Store for games, except with more socialising and actual demos of many games (*ahem*, Apple). It's the creation of game developer Valve, the company behind games like Team Fortress, Left for Dead, and one of gaming's most beloved and legendary series: Half Life. Over the years, Steam has become the go-to place for Windows gamers to shop for and try out everything from blockbuster releases to indie hits, find new friends to frag with, and stay up to date with the latest patches. A Steam buddy list lets you see which of your friends are online, what games they're playing, as well as invite friends into your game or quickly join them on a campaign already in progress, all with a click or two.
Fortunately, Valve spared no expense in bringing Steam to the Mac. This isn't some duct-taped Java port that limps along with a fraction of its Windows counterpart's features. Valve used native Cocoa tools, even going so far as to re-engineer the Steam client and store on Windows to use Apple's WebKit rendering engine - which, in turn, was one of the original hints that a Mac version was in the works.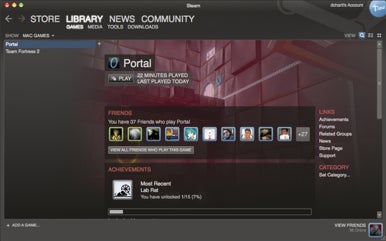 My Steam library with Portal selected, displaying which of my friends have played it and other useful information
Steam for Mac is very much a doppelgänger of the Windows version, so some elements certainly don't feel very Mac-like. The navigation toolbar, for example, contains large text links for things like the Steam Store and your Library, instead of colorful, intuitive icons like Apple and third party Mac developers favor (this navigation design actually feels heavily inspired by Microsoft's Zune). If you've used Steam before, however, you'll feel right at home. As a long-time Windows gamer via Boot Camp, there was no learning curve. I instantly started adjusting options for microphone input and downloading my library.
In fact, Valve even brought its Steam Cloud feature to the Mac client. This is a useful service of the Steam APIs that allows developers to synchronize your game settings between each of the computers on which you install your games. If games are compatible with Steam Cloud (Portal and Team Fortress 2 are), your settings will synchronise between the Mac and Windows versions. Customise a game's default keyboard shortcuts, for example, and they get synced back up to your Steam account, then back down to any other computers (Mac or PC) that you install the game on.