Office 2011 jettisons Entourage in favour of Outlook 2011. Here's a first look.
The first thing you notice is that, compared to the somewhat grey and sober Entourage, Outlook 2011 is far cheerier and more colourful, and uses many more of the Mac's familiar design conventions. Microsoft's coders seem to have done an admirable job of packing Outlook's mind-boggling abundance of features into a clear, coherent interface. For example, in each of Outlook's five main panes (Mail, Calendar, Contacts, Tasks and Notes), the new Ribbon interface runs across the top of the window, displaying sets of big, easily understandable buttons for the most important tools grouped by tabs.
Outlook supports POP, IMAP and Exchange accounts. In my first, quick tests, it handled all three without a hiccup. I couldn't connect to a remote Exchange 2003 server, even over a VPN (virtual private network). I wasn't able to determine whether this was Outlook's failing, or some flaw in the server's configuration. However, when I tried linking Outlook to an Exchange 2010 server instead, it connected instantly, and subsequently let me access all my mail, folders, calendar items and reminders, even when I wasn't connected via VPN.
Two of Outlook's biggest new features aim to help you tame your unruly inbox. First, you can now consolidate multiple accounts into a single Inbox (a feature available for a long time from rival Apple Mail). In my tests, this feature worked exactly as advertised; if you prefer to keep your accounts separate, you can turn it off.
Second, Outlook can display multiple messages from a thread under a single header. Grouping these related messages together helps keep them organised, but I wish the feature went one step further. When you click on a thread's header, you can see the subject lines of all subsequent messages within the thread, but you can't expand those messages to read more than one at a time. You have to click to display a single message, and then either click back to the overall list, or use the arrow keys to navigate to previous or subsequent messages.
In Outlook 2011, your daily list of upcoming tasks and appointments is presented in a separate application, My Day. (In the PC version, this is part of the main Outlook window.) This could be both help and hindrance. When you're in Outlook, it'd be more convenient to have that information always visible, rather than floating around as another app. However, when Outlook is closed, that separation could be a good thing, allowing you to keep track of events without running the whole app.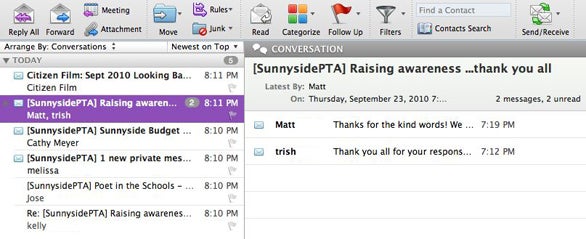 Conversation starter: Outlook groups disparate messages from the same thread under a single handy header, but you'll still have to reach each of them one at a time.