Google launched an experimental web browsing tool called Google Reader Play that allows you to browse content associated with a Google Reader news feed. Google Reader is a web-based content aggregator that assembles RSS news feeds for online or offline reading. To use Google Reader Play you do not need a Google Reader account, but if you do Google will be able to personalise the experience with your RSS preferences.
Here is how Google Reader Play works:
Google Reader Play compiles a slideshow of popular videos, photos and blog posts based on Google Reader's Recommended Items feature. These items are then displayed to you like a visual slideshow similar to Google's visual newsreader Google Fast Flip. Unlike Fast Flip that displays content in a static browser window, Play uses a filmstrip navigation bar at the bottom of the screen.
No sign up is necessary to use Play, but when you're signed in to your Google account, Google will show you shared items from people you're following in Google Reader, and the rest of the list will by populated by items similar to things that you've starred, liked or shared in Google Reader. If you have a Google account but don't use Google Reader, your Play stream will become more personalized as you share and like items. This is very similar to StumbleUpon, a social networking service that helps you discover blog posts, videos and photos based on your personal tastes.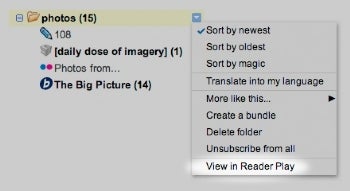 There are two ways to try out Play: you can go to Google.com/reader/play or Google Reader users can select 'View in Reader Play' from the feed settings menu in Google Reader.
Navigation
Play is a full screen experience similar to a Flickr or iPhoto slideshow. A preview of the featured item takes up the main screen, with a filmstrip below displaying upcoming items. You can have Play run like a slideshow by clicking on the television icon in the bottom left of the screen, but by default you have to move to each new item manually.
You move through your Play stream just like you would a slideshow by using the onscreen navigation icons, your keyboard arrows or selecting a new item from the filmstrip below.
The filmstrip also has a control bar that lets you customize your experience. The three middle buttons include a star for bookmarking posts, the smiley icon is for 'liking' items, and the diamond shaped RSS icon lets you share items with your Google Reader followers. For Google Reader users, actions you take in Play or Google Reader will be reflected in the other service.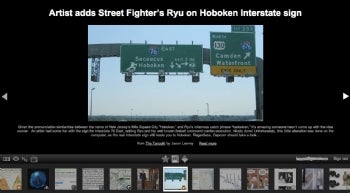 The left side of the navigation bar includes a filmstrip icon to minimise the filmstrip display. The eye icon functions like a 'Read more' button expanding a Play item from preview mode; and the graphic equaliser icon lets you filter your stream by new, starred, liked and shared items. Finally, the television icon, as I said earlier, starts a Play slideshow.
Beta Bugs
Play is an interesting service, but it does have a few downsides. The filmstrip lacks its own navigation, so you cannot move the filmstrip to see items that are queued off screen the way you can with a photo slideshow. Written posts are effectively useless in Play, because they almost never show up in their complete form. More often than not, only the headlines show up for news items and blog posts. To view the complete item at the host Website, just click on the headline. Play could also do with a 'don't like' button so you can get rid of posts you don't want to see again.
Google is quick to point out that Play is not meant as a replacement for Google Reader, and you won't see your Google Reader RSS subscriptions in Play unless you move individual posts to it using Reader's 'View in Reader Play' menu option. Give it a try, and let us know what you think. Is Google Reader Play a winner or another beta experiment gone wrong?