If you're planning to buy an iPad for work, you may be in for some disappointment. As it stands, the iPad has no file browser or native printing support. This may be a non-issue for some, but for others, particularly those using the iPad in a business environment, this can be a serious hassle.
Some iPad apps do allow you to print and share files from your iPads, but these tools come with serious caveats. Let's take a look.
Out of the box, all documents you create on the iPad (or sync to your iPad from your PC or Mac using iTunes) are fenced inside their respective iPad apps, as there is no centralised file browser. Email attachments live within the Mail app. Pictures live within the Photos app. Text documents live within the Notes app. And so on.
Sharing via iTunes
If you have the iWork apps installed on your iPad, you have a few options for getting your documents off of the device. You can email them to or from your iPad, share them using Apple's iWork.com service (more on that in a moment), or use Pages' Export feature to access them via iTunes.
Pages' Export feature is kludgy at best. To access the File Sharing pane in iTunes (where you can save files from your iPad onto your computer, and vice-versa), connect your iPad to your computer, then use your mouse to click on the iPad in Tunes' source list, and click the Apps tab. You'll need to then scroll down to get to the File Sharing pane.
This feature is important enough that it should get its own tab in iTunes, but instead it's virtually buried in the menus. Also, there's no way to automatically sync the contents of a folder on your computer with your iPad using this method, so you're stuck managing files individually.
iWork.com
iWork.com is Apple's service for sharing iWork documents online. It's currently in beta and free for iWork users, but it may transition to being a paid service when it's finalised. You can share any iWork file saved on your iPad via iWork.com, where you can view the documents or download them to your computer (you have the option of downloading a Microsoft Office-formatted version of the files too).
You can also download files onto your iPad using iWork.com. To do this, launch Safari on your iPad, browse to iWork.com on your iPad, and sign in. From there, tap the blue "download" icon (a downward-pointing arrow in a blue circle), then tap the name of the iWork app (Numbers, Pages, or Keynote) from the drop-down list. The document will then open in Safari, where you can tap "Open in <iWork app name>" in the translucent overlay toolbar (you may need to tap on the document for the toolbar to appear). Numbers will open and import the file, making it accessible from your iPad.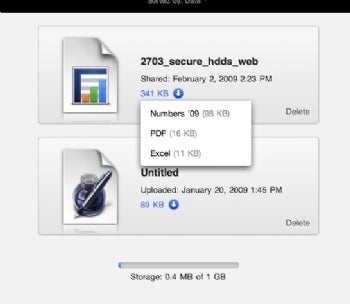 The one pitfall to this uploading documents to iWork.com requires you to use either an iPad or a Mac running iWork, so the pool of possible contributors with whom you can share will be limited.
Third-party apps
A number of third-party apps for iPad will let you share files between your computer and your iPad. These generally work over the air, syncing files via an outside Web site or over your Wi-Fi network.
You install the app on your iPad, a helper utility on your PC, then specify which folder on your computer that you'd like to access from your iPad. I looked at one in particular, called Print n Share, which lets you, well, print and share your documents.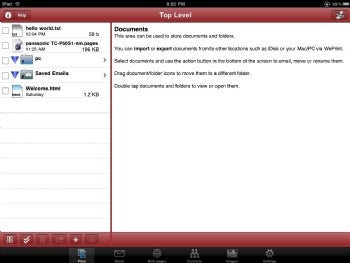 Print n Share lets you share the contents of a folder on your PC to your iPad over a Wi-Fi network. You can browse the files from your computer and then copy them over to your iPad, and in many cases you can view them inline in the Print n Share app. But there's no way for your other iPad apps to access the files you grabbed using Print n Share.
To test this, I copied a Numbers spreadsheet and a Pages document from my Mac to my iPad using Print n Share, but I couldn't actually view or edit either of these documents in the iPad apps.
On the other hand, I can email a Numbers or Excel document to myself, for example, view it in Mail on iPad, and then open it in Numbers for iPad, but I can't do the same between Print n Share and Numbers. It isn't yet clear whether this is limitation of the operating system and Apple's using some secret sauce to get it to work, or whether app developers haven't yet discovered this particular capability.
Print n Share recognised the printers I have set up to work with my MacBook over the office Wi-Fi network, but if your printer is part of a network domain, you may be out of luck.
Google Docs
Right now, unless you want to sync with your computer, email yourself, or upload to iWork.com every time you need to access a document, your best bet may be to use an online document service such as Google Docs. While the Google Docs web interface doesn't yet work properly with the iPad, Office2 Pro will let you read and edit your Google Docs, and access any files stored on a WebDAV server such as Apple's iDisk service (part of MobileMe).
Stay tuned
As of right now, document handling on the iPad is incomplete at best, and nearly unusable at worst. The fact that accessing files made in one application in another is so inconsistent is frustrating, and for some it could be a real impediment to productivity. The iPad may not need a file system as sophisticated as the one on your PC, but a central repository where you can all your documents and mail attachments would be a welcome addition, and it will likely fall to the developers to create a more seamless solution.