Those who've spent much time watching jittering Lego blocks on YouTube, Wallace and Gromit shorts on an iPod, or recent Tim Burton animated films in the theater know that stop motion moviemaking is a going concern. For those unfamiliar with the term, stop motion animation is the painstaking process of capturing still images of a scene, moving objects within the scene ever so slightly after each still image capture, and stringing together the resulting images as video frames so that when played back they mimic movement.
Unlike in the golden claymation days of Gumby and Pokey, creating stop motion videos is well within the grasp and budget of the typical Mac user. With little more than a digital camera or camcorder, software, and a fair measure of patience and planning, you can create a compelling animated feature. Here are some suggested ways to go about it.
Tools of the trade
Camera
You can't very well capture still images without a camera. Although you could conceivably use your Mac's built-in iSight camera, you're far better off with a real camera that captures higher quality images. This can be either a digital still camera or a camcorder. Which you choose largely depends on the software you use to assemble your animation. If you use a traditional movie editing application such as iMovie '09, you'll use a still camera to capture your images, import them to your Mac, and add them to an iMovie project.
Applications designed specifically for stop motion animation can not only import images shot with a still camera (some can capture live images directly through the camera) but also capture images from a camcorder tethered to the Mac via USB or Firewire. If you have the option, a good still camera will produce better images than a typical consumer camcorder because of the camera's better sensor, you get greater control over focus, aperture, depth of field, and white balance, and the variety of lenses you can use.
Software
As stop motion animation is little more than still images pieced together in a sequence, you can create a movie with any video application you like. And, for Mac users, that generally means iMovie '09. However, while iMovie '09 is affordable (particularly if it was bundled with your new Mac), there are tools better suited for the job.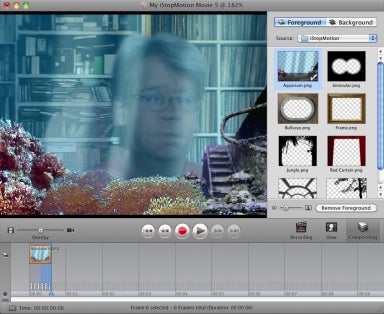 Philipp Brendel's free FrameByFrame is a barebones stop-motion animation application that works with a DV camcorder or iSight camera. It supports a form of onion skinning—a feature that displays a semi-transparent overlay of the last frame you shot along with the image of the object currently in front of the camera. Using onion skinning you can see how much you've moved the object in relation to its last position, thus helping to ensure that the movement between frames is neither too minimal or radical. FrameByFrame doesn't support still cameras nor can it import still images.
Boinx Software makes three flavors of its capable stop-motion animation application, iStopMotion 2—Home, Express and Pro. The Home version lacks support for rotoscoping (used for lip syncing dialog) and soundtracks, and doesn't allow continuous recording (shooting a user-defined number of frames or seconds of video) or offer noise reduction. Like the Home version, iStopMotion 2 Express doesn't support HD video or provide integration with Final Cut Pro. All versions include onion skinning, allow you to use both camcorders and supported still cameras, and include a compositing feature for adding background images and foreground frames.
D-Zed's Dragon Stop Motion is a professional stop-motion animation application. Although it can use camcorders for capturing images (including HDV/HDMI cameras in league with an HDMI conversion card), its strong suit is its support for still cameras. With it you can use the Live View feature found in recent Nikon, Canon, and Olympus DSLRs to not only preview shots through the camera's lens, but also capture high-quality images. iStopMotion 2 also supports some DSLRs, but not as many as Dragon Stop Motion. It also includes such worthwhile features as onion skinning, an X-Sheet window (a technical script template) for plotting and annotating your shots, support for RAW camera files, and a dialog track for typing in phonetic symbols to help sync audio and motion.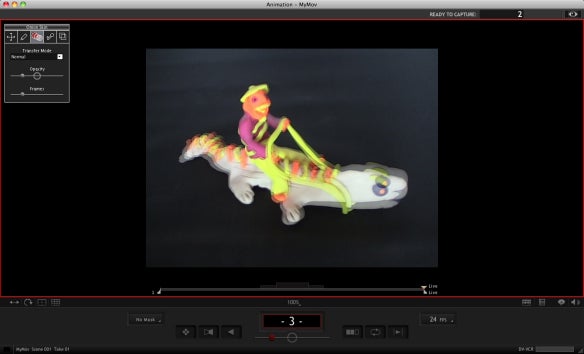 FrameByFrame, iStopMotion 2, and Dragon Stop Motion let you trigger your camcorder and—in the case of the latter two applications, supported still camera—via the Mac's keyboard or remote control. iStopMotion 2 additionally lets you use Apple's hardware remote control (with Macs that support it) to trigger captures. D-Zed includes the Dragon Stop Motion Controller—a wired USB keypad—for controlling the software and performing camera captures. Both iStopMotion 2 and Dragon Stop Motion support time-lapse shooting, provide an on-screen grid so you can more carefully design your shots, and include a feature for adding and offsetting soundtracks.
Accessories
A camera and the right software can be enough to get you started, but you'll create better-looking projects with a few additional items. Start with a tripod. It's vital that your camera stay in one place when you shoot a scene and a tripod can provide that service. If you're animating small objects—clay figures, Lego, or toys—a desktop tripod will often do the trick.
Lights are another useful addition. Light changes over time and if you don't control your primary light sources the quality of light within each shot will vary, making for an uneven looking video. You can inexpensively light your sets with a couple of tungsten work lights. To cut down on harsh shadow, diffuse that light with a white bed sheet, white shower curtain, or sheet of diffusing material found at a photographic supply shop.
Alternatively you can use a couple of table lamps with daylight bulbs or purchase a small-object lighting kit such as American Recorder's Studio in a Box. Whether you choose work lights, daylight bulbs, or the lights in a lighting kit, adjust the white balance on your camera to find the setting that works best with the light you use.