The latest update to Apple's mobile operating system arrived on schedule, with iOS 4 becoming available as a download on Monday. As with past OS updates, iOS 4 delivers an array of new features and enhancements to some old favorites. But things are different this time as well—Apple is no longer charging iPod touch owners to upgrade. Then again, some customers with older devices won't be able to upgrade at all—the first time that's happened since the 2007 debut of Apple's mobile OS.
Confused? Don't worry, we've got all the information on iOS 4 you need. Our iOS 4 review provides a comprehensive run-through of all the major enhancements and additions in this update. But for quick answers to your burning iOS 4 questions, read on.
What's with the name? I thought it was called the iPhone OS.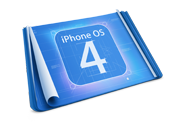 It was, back when Apple first took the wraps off the new OS in April. But that changed this year at the Worldwide Developers Conference, when Apple CEO Steve Jobs announced the name change. And it makes sense—while iPhones certainly run the operating system, so do the iPod touch and iPad. Apple doesn't provide definitive numbers on this, but we'd be willing to bet a good portion of the devices that use its mobile OS aren't phones at all. Hence, the name change.
What's new in iOS 4 beside the name?
The short answer is "plenty." Apart from the touted 1500 APIs aimed at developers, regular users can count on finding a purported 100 new features and enhancements in this release. The highlights include support for multitasking, folders for organising apps, Events, Places, and Faces in the Photos app and lots of Mail enhancements such as a unified inbox and threaded conversations. Other new features include Quick Look for attachments, opening email attachments in other apps (for example, opening a PDF attachment in GoodReader or iBooks 1.1), editing iPod playlists right on the device, and searching the web or Wikipedia from the Home screen's Search panel.
Will my existing applications work on iOS 4?
Most applications should run as they did under the old OS, without any need for updates from their developers. But apps won't be able to take advantage of the new iPhone 3GS- or iPhone 4-specific multitasking features without their makers doing at least a little work and releasing new versions. That said, a small handful of apps seem to have trouble running on iOS 4, but updates are pouring into the store, chances are good that your app will either run fine as-is or get an update in short order.
How do I upgrade my iPhone or iPod touch to iOS 4?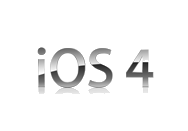 As with previous major iOS releases, Apple has made the upgrade process fairly simple. Just plug your device into iTunes, and then sync it to create an up-to-date backup. (You can never be too safe, if iTunes doesn't back up your iPhone automatically, right-click on the phone in iTunes' sidebar and choose "Back Up.")
iTunes should notify you that a new OS version is available. If it doesn't, click the Check for Updates button on your device's Info page. A dialog box will tell you about the new version, and after clicking OK, iTunes will download and install iOS 4 automatically.
So upgrading is pretty painless?
Well, let's not go that far. Once the download completes, iTunes will immediately start upgrading your iPhone's firmware. Once that process completes, which shouldn't take more than 10 minutes, your iPhone will reboot.
When the iPhone starts back up again, iTunes may choose to immediately back it up. Once that completes, the iPhone will reboot a second time, after which iTunes will briefly attempt to "verify" your iPhone's upgrade.
After all that, the wait will be finally be over: You can unlock your iPhone and start checking out iOS 4. Don't be alarmed if things look a little funny, since the OS will, by default, use your lock-screen wallpaper as your Home screen background, too—assuming that you've got a device that supports that new feature. (You can tweak that in the Settings app.)
Find your next job with techworld jobs